"Bon Appetit" Katy Perry is on the menu and we are hungry for more!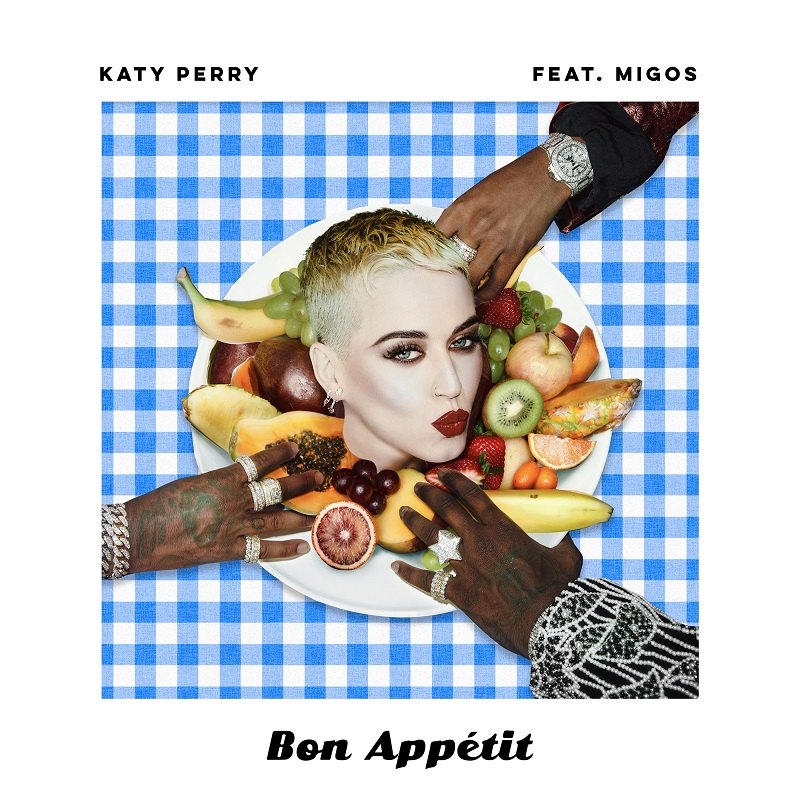 Sunday 30th April 2017
Bon Appetit ft Migos
Release date: 28/04/2017 Label: Virgin EMI
Ok get ready for THIS as one of our pop hero's is back with her incredible new single and we are OBSESSED!!!!!
Today, Katy Perry gave fans another preview of her forthcoming album with the release of her new single, "Bon Appétit." The track features Atlanta-based hip-hop trio Migos. Katy co-wrote "Bon Appétit" with Max Martin, Shellback, Oscar Holter, Ferras Alqaisi and Migos. The song is now available everywhere for streaming and download. Visit http://katy.to/bonappetit.
Spotify streams of "Chained to the Rhythm," the first single from Katy's new album, exceeded three million on the first day – setting an all-time record for the best first day of streaming of a single track by a female artist in Spotify history. Audio/visual streams of the track surpassed 500 million worldwide in the first 10 weeks of release. In the U.K., "Chained to the Rhythm" reached No. 1 on the airplay charts and became the biggest airplay hit of the past 12 months. The single also topped the airplay charts in Ireland, Australia, Germany, Italy, Finland, Spain, Denmark, Poland and Japan. View the official video for "Chained to the Rhythm" HERE.
Katy made her Capitol/Virgin EMI Records debut with 2008's One of the Boys after signing to the label in 2007. She cemented her status as a global superstar with the follow-up album, Teenage Dream (2010). PRISM, her 2013 album, debuted at No. 1 on iTunes in 100 countries and has sold more than 12.5 million adjusted albums worldwide. With the singles "Firework" and "Dark Horse" each surpassing the 10 million threshold including song sales and streams, Katy is the first female artist to earn two RIAA Digital Single Diamond Awards.
In her 10 years with Capitol/Virgin EMI, she has racked up a cumulative 18+ billion streams alongside worldwide sales of more than 40+ million adjusted albums and 125+ million tracks. She is the most-followed person globally on Twitter. Katy played to a total of two million people on the sold-out, 151-date Prismatic World Tour and headlined the Super Bowl XLIX halftime show, which set a record as the most-watched Super Bowl halftime show ever.
And if you know us you will know just how much we adore Katy and this is yet another HUGE pop smash. Ok guys it goes without saying this is a HUGE NUMBER 1 PRIORITY so please make sure you are on the case 100%
Craig & Scott
Posted by Craig Jones