Ariana Grande Teams Up With The Legendary Stevie Wonder on the duet "Faith" from the forthcoming feel good film "Sing"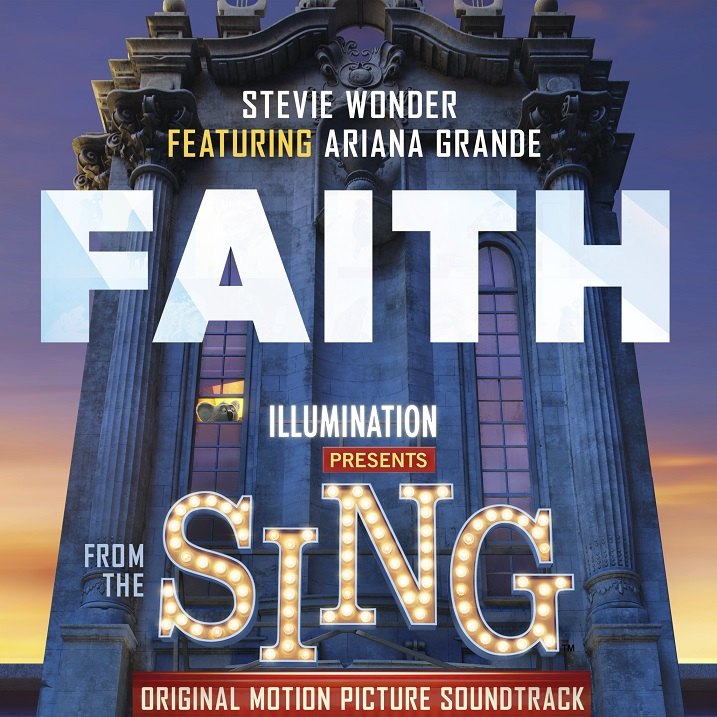 Monday 14th November 2016
Faith
Release date: TBC Label: Island
Today Stevie Wonder and Ariana Grande reveal the much anticipated duet 'Faith', available now on all digital retailers via Island Records. 'Faith' is the lead track from Sing, the Illumination Entertainment and Universal Pictures' forthcoming movie, starring Academy Award winners Matthew McConaughey and Reese Witherspoon, alongside Scarlett Johansson and Seth MacFarlane. The official Sing soundtrack is out on December 9.
'Faith' brings together Academy Award and Grammy Award-winning Stevie Wonder and multi-platinum Grammy Award nominee Ariana Grande. Produced by powerhouses and multi-Grammy Award-winning songwriter/producers Ryan Tedder (Adele, Beyoncé, U2) and Benny Blanco (Rihanna, Ed Sheeran, Katy Perry), 'Faith' marks the first song that Stevie Wonder has contributed to a film in more than 25 years.
ABOUT SING
Illumination Entertainment has captivated audiences all over the world with the beloved hits Despicable Me, Dr. Seuss' The Lorax, Despicable Me 2 and Minions, now the second-highest-grossing animated movie in history. Following the release of this summer's comedy blockbuster The Secret Life of Pets, Illumination presents Sing this winter.
The film stars Academy Award winners Matthew McConaughey and Reese Witherspoon, alongside Seth MacFarlane, Scarlett Johansson, John C. Reilly, Taron Egerton and Grammy Award-nominated Tori Kelly.
Set in a world like ours but entirely inhabited by animals, Sing stars Buster Moon (McConaughey), a dapper koala who presides over a once-grand theater that has fallen on hard times. Buster is an eternal—some might even say delusional—optimist who loves his theater above all and will do anything to preserve it. Now faced with the crumbling of his life's ambition, he has one final chance to restore his fading jewel to its former glory by producing the world's greatest singing competition.
Featuring more than 65 hit songs, Sing is produced by Meledandri and his longtime collaborator Janet Healy. Together, they have produced all of Illumination's films since the studio's inception. Released by Universal Pictures, Sing arrives in theaters early next year. www.singmovie.com
ABOUT STEVIE WONDER AND ARIANA GRANDE
Stevie Wonder remains one of the most legendary and influential artists in history. In addition to selling more than 100 million albums worldwide, he has garnered a total of 25 Grammy Awards—the most-ever awarded to a male solo artist in history. Among countless accolades, he is an Academy Award winner and landed at No. 6 on Billboard's Hot 100 All-Time Artists. A paragon of goodwill, charity and activism, he was even named a Messenger of Peace by the United Nations.
Within less than a year, Ariana Grande captured No. 1 on the Billboard Top 200 twice and 2 top 10 UK albums—first with her platinum selling debut Yours Truly and also with its 2014 follow-up, My Everything. Ariana is the first woman in history and the first artist since Michael Jackson to simultaneously have three songs—'Problem,' 'Break Free' featuring Zedd, and 'Bang Bang' with Nicki Minaj and Jessie J—in the Top 6 of the Digital Songs Chart. This year Ariana released her third full-length album, Dangerous Woman, which reached #1 in the UK charts.
Posted by Craig Jones