"New Girl" ...Reggie N Bollie Present their debut track on Syco!!!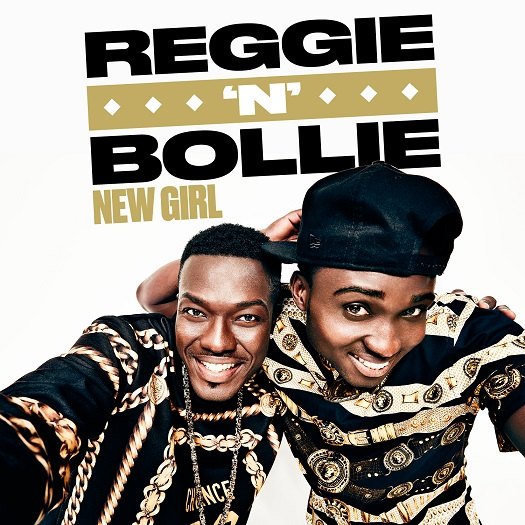 Friday 13th May 2016
New Girl
Release date: TBC Label: Syco
Dynamic duo Reggie 'N' Bollie explode back onto the UK music scene with their energetic new single 'New Girl', out now via SYCO Music.
Launched as part of a massive new Littlewoods advertising campaign, 'New Girl' is a catchy afro-beat infused feel-good summer tune, laced with the boys' signature energy and enthusiasm. Penned by Teddy Geirger, Ammar Malik ('Moves Like Jagger'), TMS (Emeli Sande, Jess Glynne), Space Primates & The Six with production coming from Space Primates, LDN Noise (Chris Brown, Tinie Tempah) and AfterHours, it's chart bound and oozing summer.
Putting a fresh spin on hip-life ("which is to Ghana what grime is to the UK…" states Reggie), the track has already been championed by their X Factor mentor and friend, Cheryl who is fully backing the boys.
The video was filmed in their home country of Ghana, where the red carpet was rolled out with an emotional home-coming for the pair, bringing Accra airport to a standstill. "We're the first Ghanaian artists, aside from Fuse ODG, to be signed to a UK label. When you move to London they think you've made it. But we really feel like we have."
The infectious party track comes with a dance routine, choreographed by the boys themselves – one that is set to become a phenomenon up and down the country and we defy anyone to stay sitting still when the track comes on!
Reggie 'N' Bollie were the freshest act to come out of X Factor 2015. Mentored by Cheryl and praised by Simon Cowell, they won the nation over with their effervescent enthusiasm and lively, unique performance style. Their popularity has won them a loyal fan base across the UK, who are desperate to get their hands on new music from the guys. Testament to this was the overwhelming reaction the boys received on the X Factor tour, where they performed to standing ovations at sold-out audiences in arena capacity venues.
A long way from their humble beginnings in Ghana, cohorts Reggie 'N' Bollie, who met a decade back at a local studio and are already award winners in their motherland, once thought collaborating with their musical idols would be a distant dream - but not anymore. With a more diverse array of Afro beats waiting in the wings alongside the global pop tracks, their desire to work with Cheryl, Jay-Z or Sean Paul is now top of the list (the boys recently met at a Fuse ODG concert and discussions have already begun with Cheryl's camp, so watch this space). Reggie 'N' Bollie are only just getting started.
Their new single 'New Girl' is OUT NOW!
Facebook: /reggienbollie
Twitter: @reggienbollie
Instagram: @reggienbollie
And thanks to the guys at Syco, Eurosolution are delighted to present this slice of pure summer that we know you are going to love! Ok guys this is a HUGE record and a massive Eurosolution/Syco Priority so please make sure you are on the case 100%
Craig & Scott
Posted by Craig Jones