Bebe Rexha unleashes "No Broken Hearts" Ft. Nicki Minaj!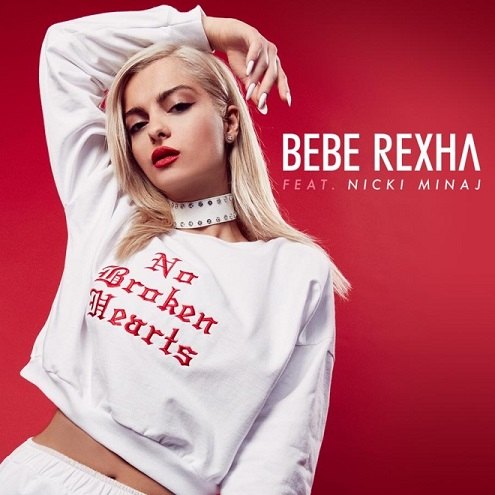 Friday 22nd April 2016
No Broken Hearts
Release date: TBC
As co-writer of the Eminem/Rihannasmash 'Monster' and vocalist/co-writer of chart hits from the likes of DavidGuetta ('Hey Mama'), Cash Cash ('Take Me Home') and G-Eazy ('Me, Myself & I'),Bebe Rexha is already firmly established as a hitmaker. After 10 million single sales, 800 million Spotify streams and abillion YouTube/VEVO views, she kick-starts her solo career with 'No Broken Hearts' which features Nicki Minaj.
Produced by Grammy Award-nominated production team TheInvisible Men (Iggy Azalea, Jessie J), 'No Broken Hearts' sees Bebe Rexha'srobust, raw and real voice take the spotlight. Over a slick, smooth and sultry bounce, Rexha delivers a massive refrain that was freestyled in the vocal booth and punctuated by a fiery verse from Minaj. The track has already been played 3.7 milliontimes at Spotify.
"I had been heartbroken three times that week," she admits. "I went to the studio, and I was crying my eyes out. As soon as I walked to the mic, it came to me. We captured the first take right when I heard the song. There's nothing mathematical to my writing. I turned sadness into an anthem for not letting anything or anyone slow you down. Everybody goes through some sort of pain. It's good for people to hear that. Nicki was perfect, because she's a New York chick who identifies with this. Life's too short, so let's enjoy it."
That spirit courses through her inimitable and irresistible sound. Merging booming production, cinematic storytelling and a powerhouse voice, she nods to influences as diverse as Michael Jackson, Lauryn Hill, Tracy Chapman, The Cranberries and Kanye West. Drawing on her Albanianheritage and youth in New York City, she stirs up a musical melting pot of her own.
"I feel like I'm just starting to show who I am," she continues. "I'm going even further though. I'm embracing my roots and the artists I love. At the same time, I want to tell stories. The new music is more about empowerment. You work on yourself, and you focus on your happiness. That's the message. I'm saying what I want to say. Life isn't easy. We're all going through something. I hope people know they're not alone when they hear my songs."
And you guys have this HUGE exclusive of this monster track to smash out to the max. Mixes to follow.
We ADORE this record and are so excited to be presenting it to you guys so please make sure you are on the case 100%
Craig & Scott
Posted by Craig Jones