"Boys & Girls" its Will.i.am Ft. Pia Mia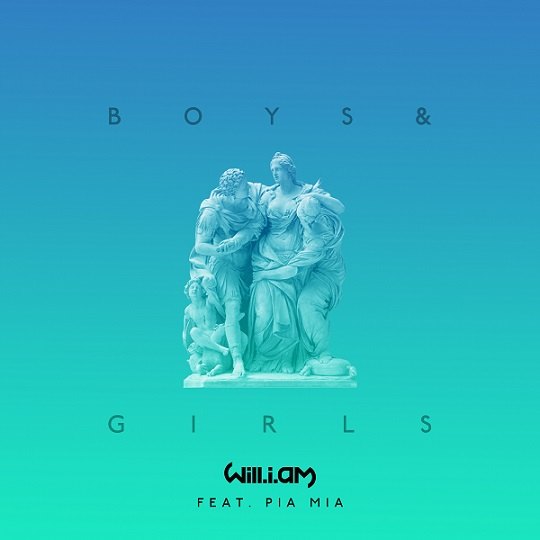 Saturday 9th April 2016
Boys & Girls
Release date: 08/04/2016 Label: Interscope
Multi-platinum seven-time Grammy Award-winning producer and songwriter will.i.am releases his brand-new single, "Boys & Girls," featuring Pia Mia via Interscope Records. The new single is available for digital download (add link) and streaming (add link) via all participating digital retailers Friday, April 8th. will.i.am produced the track along with Lazy Jay, who also produced will.i.am's multi-platinum selling single "Scream & Shout."
This Friday will.i.am will also premiere the official video for "Boys & Girls" on Vevo. Watch it HERE. Directed by filmmaker Spencer Creigh, the video was shot over three days in downtown L.A. and features Pia Mia as well as cameos from Instagram icon India Love(@indialove) and singer Jessica Reynoso, as well as a host of social media influencers/Instagram stars including Arianny Celeste (@ariannyceleste), Jack Baran (@thatsojack), Stephanie Villa (@soothingsista) and Liza Koshay (@lizzzak).
will.i.am is known not only for his work with The Black Eyed Peas but also for writing and producing tracks for such superstar artists as Britney Spears, Michael Jackson and Usher. His fourth solo album, 2013's #willpower, debuted at #3 in the UK charts. The album featured 4 Top Five UK hit singles (including two #1's), such as '#thatPOWER' ft. Justin Bieber, the multi-platinum selling single 'Scream and Shout' ft. Britney Spears (there was also the additional 'Hit-Boy Remix' featuring Spears, Hit-Boy, Waka Flocka Flame, Lil Wayne and Diddy), 'This Is Love' ft. Eva Simonsand 'Bang Bang', which was also featured on The Great Gatsby soundtrack.
will.i.am, as a solo artist and along with The Black Eyed Peas, has sold over 35 million albums and 132 million singles worldwide. Recognized and honored by numerous industry organizations, will.i.am is the recipient of multiple Grammy Awards, an Emmy Award, a CLIO Award and ranked on Fortune's 40 Under 40 list.
Pia Mia, who is featured on "Boys & Girls," released her debut EP, The Gift in 2014. In 2015 Pia Mia released her first official single "Do It Again," featuring Chris Brown and Tyga, which has amassed nearly 200 million views on Vevo. Pia Mia is currently in the studio working on her upcoming debut album for Wolfpack / Interscope Records.
And thanks to the guys at Interscope, Eurosolution are so pleased to present this HUGE new record to you guys here exclusively. We LOVE this and know you will too and will is a total ledge so please MAKE SURE you are on the case 100%
Craig & Scott
Posted by Craig Jones