Rihanna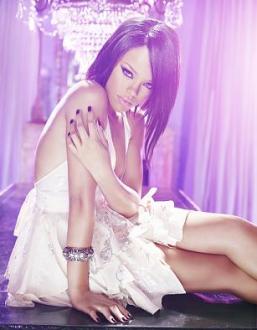 At the young age of 19, Rihanna, the Barbados-born beauty, has already earned the coveted title of international superstar. In just three short years, Rihanna has helped define the path of popular music, accrued multiple #1 hits, two MTV Video Music Awards and three Billboard Awards along her way. In addition to her mind blowing musical successes, Rihanna created a charity organization for impoverished children and has signed on to endorse a wide variety of multi-billion dollar companies including Venus Gillette, Nike and Secret. Most recently, Rihanna was asked to join the ranks of musical icons such as Queen Latifah and Faith Hill as the new face of CoverGirl Cosmetics.

While it may be hard to imagine, just four years ago, Rihanna was a young girl living in the beautiful Barbados parish of Saint Michael. Her first connection to the music industry came when she met a vacationing music producer named Evan Rogers from New York City. After an impromptu performance for Evan, he was absolutely certain she would one day make history. Soon after, Evan and Rihanna traveled to the Big Apple in search of a record deal. It took just one meeting with Jay-Z for Rihanna to score her big break. Jay, who had just recently been appointed the President of Def Jam Records, was so taken by the young singer's arresting natural talent that he signed her to the legendary label on the spot.
In 2005, Def Jam released Rihanna's dynamic debut album, Music of the Sun, which garnered much attention due to the popularity of her highly addictive dancehall flavored first single, "Pon de Replay". A year later, Rihanna released her platinum-selling second album, A Girl Like Me, featuring the #1 singles, "SOS" and "Unfaithful".
With two successful albums under her belt in just two years, Rihanna dropped her third and most critically acclaimed LP, Good Girl Gone Bad in 2007. The album's first single, "Umbrella," was the undisputed number one pop song of the summer and dominated the pop, urban and crossover charts for eight weeks in the U.S. "Umbrella" was also the #1 single on the UK singles chart for eleven consecutive weeks and went on to win "Video of the Year" and "Monster Single of the Year" at the 2007 MTV Video Music Awards.
In the wake of the "Umbrella" phenomenon, Rihanna showcased her "rock & roll" side with the release of her second single, the electric guitar flavored, "Shut Up & Drive." With a cohesive collection of body rockin' tracks that include highly innovative production work from Timbaland and Tricky Stewart, along with the song writing prowess of Justin Timberlake and Ne-Yo, Good Girl Gone Bad has solidified Rihanna's position amongst the industry elite. In support of the album, Rihanna has embarked on an extensive European tour on the heels of being named "Best International Act" at the European MOBO Awards, as well as being nominated for four MTV Europe Music Awards including "Album of the Year."
When it comes to fashion, Rihanna has quickly become a style icon to young women everywhere. Everything from her cutting edge hair styles to her immaculate fashion sense are heavily monitored in the glossy pages of high fashion magazines worldwide. This past year, the multi-talented trendsetter walked the runway in Milan, Italy at the DSquared fashion show and has recently been affiliated with a number of other international designers including Giorgio Armani, Dolce & Gabana and Zac Posen.
After making an enormous impact on both the music and fashion worlds, Rihanna decided it was time to give back to the community that had given her such tremendous support from the beginning. In 2006, she created the non-profit organization, Believe, which is dedicated to providing medical services, school supplies and toys for children in need.

Rihanna's impressive discography and a growing collection of the music industry's most cherished awards has proven that this is only the beginning. With her beauty, fashion and business sense to match, the Island girl turned international superstar will continue to rock the world for years to come!
Check out the extra hot video for 'Disturbia' here:
http://www.youtube.com/watch?v=a6zdhHLvT7k
Euro Solution promoted singles:
Disturbia - 22/08/2008
Dont Stop The Music
Hate That I Love You feat Ne-Yo
Minimix
Shut Up And Drive - 03/09/2007
Umbrella ft Jay-Z - 28/05/2007
Umbrella ft Jay-Z (radio edit)
We Ride (Limited Mail-Out)